IT Support for Not-for-Profits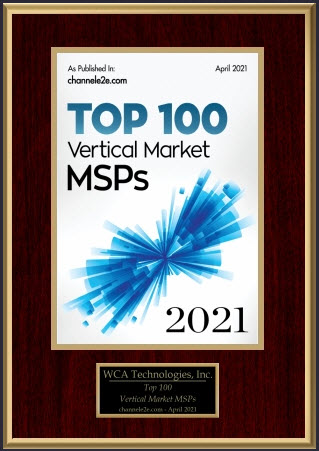 WCA Technologies is proud to be ranked "Top 100 Vertical Market MSP (Managed Services Provider)"
Once again, WCA Technologies is recognized as a Top 100 Vertical Market Managed Services Provider for its work helping Nonprofits in our area.
WCA delivers safe, secure, robust technology solutions that enable Not-for-Profits to fulfill their missions by leveraging cloud-based solutions and best-in-class security to provide maximum uptime at minimal cost.
IT Support for Not-for-Profits
We know Nonprofits. WCA has been serving the technology needs of area Nonprofits since 1988. We understand the unique needs of Nonprofits and know how to manage IT Support for Nonprofits that's consistent, reliable, and on-budget, with no surprises. If your IT Support solution can't make the same claim, click or tap to call us now at 212-642-0980.
Keeping Nonprofits Connected
We know Technology. We're an IT Services company on a mission — a mission to meet the needs of the Not-for-Profit agencies that keep our city running. That serve its people. And because Not-for-Profits have unique needs and considerations, we've made it our mission to develop IT Support solutions they can count on. For over 35 years, New York City's Not-for-Profit agencies have relied on WCA Technologies. And once again, we have been recognized as a "Top 100" vertical market provider. Click or tap to talk with us today, 212-642-0980.